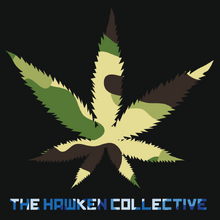 The Hawken Collective (THC) is a North America based Pre-Silence Hawken clan led by _incitatus and phed. The clan acronym is a play on the chemical tetrahydrocannabinol (abbreviated to THC) which is found in cannabis. This clan emphasizes humour and a laid back attitude in its members, while still maintaining a high level of Hawken skill. Its forum thread can be found here.
THC has a teamspeak server which is open to players and funded by _incitatus, its address is: anniesboobs.typefrag.com:4725
The clan participates in all NA region community events, and fields teams for TPG leagues. Some of its members are part of other TPG teams. They also play Deathmatches, 1V1 and 2V2 duels, and sometimes scrims. They are currently fielding a team for TPG season 3, which is active in the Omega division.
Recruitment
Edit
THC recruits players who "like to play on a "higher" level." Their thread introduction by phed mentions that they do not discriminate on any level even skill, but that a certain attitude is required as there will be no holding back during matches.
Community content is available under
CC-BY-SA
unless otherwise noted.