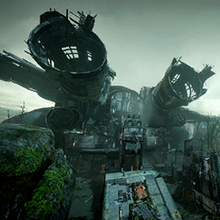 Wreckage is a multiplayer map for Hawken. It contains a large spaceship crashed in the middle of a swamp area. There are ramps leading from the swamp to the inside of the spaceship, as well as lateral entrances directly next to the Prosk and Sentium spawns. Although the central area of the spaceship is relatively large, overall the ship's insides are very claustrophobic and leave little room for dodging or aerial manoeuvring.
This map supports four game modes: Deathmatch, Team Deathmatch, Missile Assault, and Siege.
The swamps outside are more open, although steep rocky outcroppings still provide some cover.
Behind one of the spawns, at the edge of the map, it is possible to see Marvin the Yeti swimming in the water surrounding the outside boundaries.
Community content is available under
CC-BY-SA
unless otherwise noted.